If you've ever wanted to improve the way your car behaves, you might want to consider letting the guys at Fong Kim Exhaust System have a look at it.
Upgrading your car's performance, or tuning, as most would call it, is something of an art. And it's an art that can go wrong if not done properly, both in terms of legality and safety. If you've ever wanted to improve the way your car behaves, you might want to consider letting the guys at Fong Kim Exhaust System have a look at it.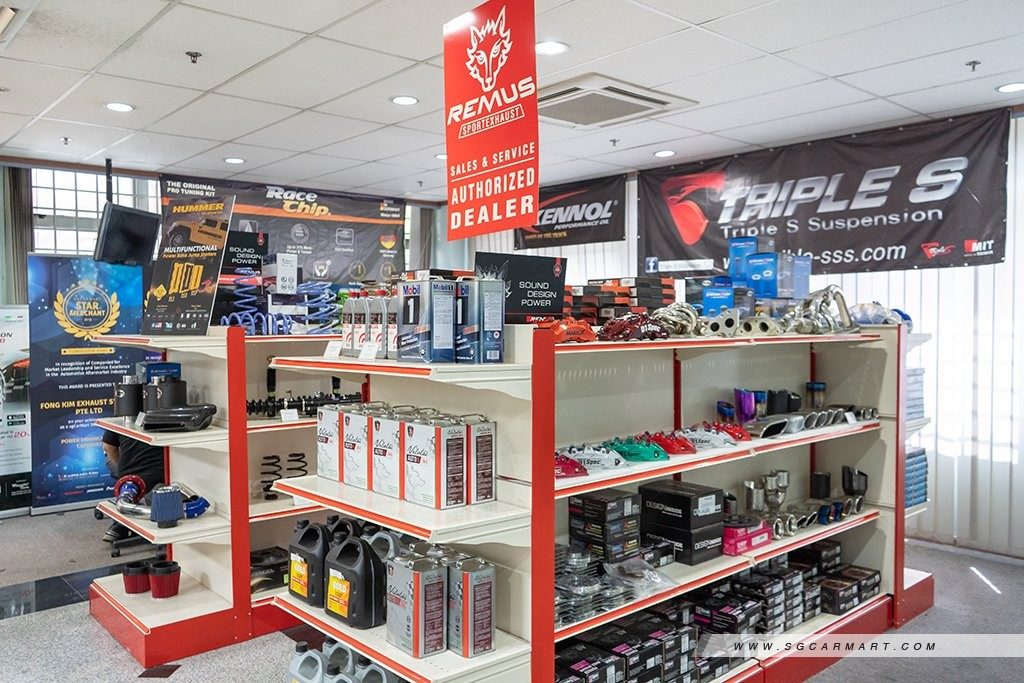 Established in 1978, Fong Kim is one of the oldest and most experienced automotive establishments in Singapore. The company started as a regular servicing and maintenance workshop focusing on exhaust repairs, but now has expanded to provide performance and handling modifications and upgrades.
With a wide range of services, Fong Kim has progressed beyond just troubleshooting and repairing of exhaust systems.
Today, it's a company that many car enthusiasts in Singapore are familiar with, thanks to both its decades of experience in the trade, as well as its high-quality, well-priced aftermarket products.
The automotive exhaust specialist
If you want your car to 'sing' a little better, Fong Kim is the official distributor and major dealer of several well-known, LTA-approved brands for a wide range of vehicles, like Bastuck, Drift Racing, HKS and Remus. The company is also able to bring in other brands of exhaust systems if a client requests.
But more than just importing these products, Fong Kim is also skilled at custom exhaust fabrication, so whether it's a fully customised exhaust setup or something off the shelf, it has a solution for you.
Improve handling and safety with coilovers and brake kits
It also offers products to improve the handling of your car, such as coilovers by BC Racing and brake kits by D1 Spec, and their in-house brand CJ Dynamics. These brands are equally as well-known as Fong Kim itself, and have repeatedly proven their worth on both the street and on race tracks.
And if your budget doesn't allow for a full coilover setup, Fong Kim also carries Triple S lowering springs, which are backed by over 40 years of experience, research and development.
While not as adjustable as coilovers, Triple S springs are developed specifically with make and model in mind, with moderate lowering. Thus, they are capable of protecting the factory shock absorbers by preventing 'bottom outs'.
Performance and fuel-efficiency upgrades
That's not all that the company offers. If you want some work done under your hood, Fong Kim also carries a range of performance upgrades such as air intake systems, forced induction and cooling system, stabiliser bars, throttle controllers and ECU tuning services.
Font Kim also carries Carspeed ignition coils. A popular upgrade, it provides a more stable ignition spark, which promises to improve on both acceleration and fuel efficiency.
Whether it is servicing, maintenance, upgrades and modifications, Fong Kim has got you covered. Its staff are well-versed in its products and skills, and will offer advice for what's best for your car and your wallet.
For more information on the products and services Fong Kim provides, head on down to 53 Ubi Avenue 1, #01-01 Paya Ubi Industrial Park, Singapore (408934) or Ubi Road 1, Block 3015 #01-200, Singapore (408704). You can also call the company before heading down at 68444281, 67437737 or 98457540.
It operates from 9:30am to 7:00pm from Mondays to Saturdays, excluding Public Holidays.