Description
HKS Hi-Power Muffler came back with the same concept, "High Power & High Performance", and "Resonant Sound" and "Stylish" are harmonized together.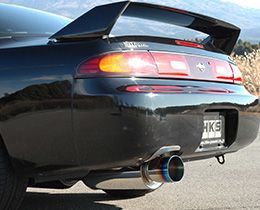 Titanium Color Exhaust Tip
Brightly shined titanium color tips are used for GT-R and Silvia.
This tip is made of stainless (SUS304) which improve appearance and cost-performance.
High performance for stock to high-performance vehicles with upgraded turbines, sound quality, are the JASMA standard are implemented together. This had been impossible in a long exhaust tuning history.
To maintain the exhaust efficiency, enlargement of the exhaust pipe is usually required; the sound level tends to be increased and low-tone. The exhaust system with a cannon ball-shaped shell usually has lower silencer capacity than an oval-shaped shell; therefore, to reduce the sound level, the pipe diameter is narrowed. However, a narrow pipe diameter also reduces the exhaust efficiency and increase the exhaust pressure.
HKS utilized original unique technology to maintain the exhaust capacity and sound level to meet the JASMA standard which is more severe than the regular safety standard. Inner structure of the silencer was redesigned so the unwanted low exhausts resonance was eliminated, and the sound quality was improved.
* Data is based on the test results of a prototype for RB26.
Exhaust Dress-up Evolution & Safety regulations applicable.
Powerful rear view with the cannon ball-shaped & modern titanium color tips improve the appearance.
Tuning cars race in circuits for a time attack have improved the appearance more stylish.
To maintain large exhaust capacity, the pipe diameter of the exhaust pipe installed on the bottom of a vehicle must be enlarged, and the ground clearance must be narrow. HKS Hi-Power Muffler was designed to maintain sufficient ground clearance with redesigned flanges and layout.
Extension of internal wastegate turbocharger smoothes exhaust gas flow from turbine to front pipe. It reduces secondary exhaust gas pressure of turbine. Response and power of turbocharger will be improved.
The key item of exhaust back pressure control with knowhow of HKS CZ200S (CZ4A).
Maximization of performance from stock turbine is the concept of the product.
Extension portion and Front Pipe portion are connected with a flexible joint.
It improves "durability" that is an important factor of tuning.
It offers new tuning possibility for EVO X.
Features
As stock turbine is small, it has good response at low rpm. At high rpm, due to exhaust resistance, feeling will be worse. By improved exhaust efficiency, boost pressure will increase earlier at low rpm and power & torque will be increased for whole rpm range up to high rpm.
CAD designed complicated but ideal shape is manufactured with lost wax casting. Since lost wax casting items do not have welding portion, there is no problem of cracking by heat and the smooth surface guides exhaust gas flow smoothly.
The turbine outlet is 2 ports independent shape for swing valve side and turbine impeller side to reduce resistance due to interference of gas.
For street use, connection of extension and Front Pipe is flexible joint type like stock system to reduce vibration and to improve durability.
Even lower side exhaust part is hit, it prevents damage to the engine or turbine.
"Horsepower" & "Torque" increased at the entire rpm range!!
Twin port VS Single port
win ports type increase boost pressure level quicker!!
Reduce exhaust backpressure reduces load on engine
and stabilized performance!!
* Please note that installation is not included.
* Price quoted before GST